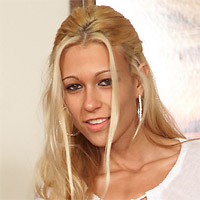 Cindy Crawford
Age: 21
Height: 5'5"
Weight: 95 lbs
Measurements: 33C-25-33
Occupation: Adult film actress
Hobbies: Giving sexual favors
Favorite Music: Trance, Techno, and House
Favorite Fantasy: Starring in adult films about huge orgies
Cindy Crawford (yes, that is her real name - we couldn't believe it either!!) is a popular adult film actress. When we saw pics of this woman we knew that we had to shoot her as soon as possible. When Cindy first showed up, we asked how she got into adult films and she said "I'm a sex addict, I just can't get enough of it, so what better way to make a living other than starring in movies doing what I do best !?!" We're inclined to agree, Cindy loved doing everything we wanted and more... you would not believe the things she can do with her pussy!! Her first scene consists of some awesome inverted bottle insertions. She also did some spreading, peeing, and even a hot speculum scene!! Cindy Crawford is just 21 years old and stands 5'5" tall. She weighs 95 lbs. Cindy loves nothing more than to give sexual pleasures to others. She listens to trance, techno, and house music. Cindy first had sex at the age of 14 and usually does it 3 times a day. Cindy's measurements are 33C-25-33.
Available Photosets
Snapshot

Scene Description

Total Pictures

Scene Preview

Cindy Crawford - Scene #1 - Remastered

White blouse and jean shorts, posing, spreading pussy, inverted bottle insertions and pull outs, gaping pussy!!

249 Pics
Scene Samples

Cindy Crawford - Scene #2 - Remastered

White skirt and purple top, posing outside, amazing spreading pussy shots, Cindy inserts multiple carrots and uses them to stretch her pussy to the max!!

248 Pics
Scene Samples

Cindy Crawford - Scene #3 - Remastered

Green bikini, posing outside, camel toe, spreading pussy, Cindy uses spreaders to strecth her pussy to the max!!

224 Pics
Scene Samples

Cindy Crawford - Scene #4 - Remastered

Pink plaid dress, stripping, posing, finger spreading, fingering, dildo, insertions, peeing

294 Pics
Scene Samples

Cindy Crawford - Scene #5 - Remastered

White gown, thong, bed, stripping, posing, finger spreading, speculum, gaping, cervix

201 Pics
Scene Samples

Cindy Crawford - Scene #6 - Remastered

College girl, button up, skirt, white cotton panties, camel toe, stripping, posing, finger spreading, glass bottle, insertions, female assistant

203 Pics
Scene Samples
Downloadable Videos
Screen Capture

Video Description

Download Options

New Video Release

Video Type: Photoshoot

Length: 22:17

AVI #004

Date: March 19, 2021

Cindy poses in her college girl uniform and shows off her camel toe panties. She toys her pussy with a glass bottle while smiling bright.

853x480 MP4

1280x720 MP4

1920x1080 MP4

3840x2160 MP4

Digitally Remastered Video Release

Video Type: Photoshoot

Length: 15:53

AVI #21-28

Date: April 01, 2016

Sprawled out in bed wearing just her sheer, white thong, Cindy Crawford shows her slender physique and shaved pussy to the camera. She spreads her pussy by hand before gaping it wide with the speculum for a hot look at her cervix. We hand her a mirror so she can get a good look for herself, too!

640x480 Flash

640x480 DivX

720x540 WMV

Video Type: Masturbation

Length: 19:09

AVI #01-13

Date: August 20, 2009

Sexy ALS Angels model Cindy Crawford is back and ready to get herself off big time in this hot masturbation video! Watch as Cindy begins to stretch her pussy and insert fingers for her audience. Cindy only gets herself nice and horny, and ready for some pussy fucking! This hottie doesn't hesitate to grab for a big glass dildo and fuck her pussy hard until she cums!

640x480 Flash

640x480 DivX

720x540 WMV

Video Type: Photoshoot

Length: 12:41

AVI #14-20 (a-c)

Date: November 29, 2007

Cindy is posing for the camera at the fireplace with a glass bottle stuffed into her pussy. She moves to the chair and inserts another bottle. She is hot, horny, and ready to get herself off. She masturbates on the bed rubbing her clit and fingering her sweet pussy.

640x480 Flash

640x480 DivX

720x540 WMV